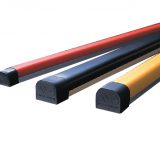 Contact detection type switches provided with cushioning characteristics 
A tape switch combined with a dedicated jacket to provide protection for the sensing object. 
Features & Benefits 
Provisions for protecting the sensing object are implemented by covering a tape switch with a dedicated jacket. This also minimizes the damage to the tape switch itself, so that the durability of the edge switch is greatly enhanced.

Selectable from 8 types which differ in structure and size.

Easy installation using an aluminum channel.

4-wire tape switches and terminating-register-integrated tape switches can be combined with an interface controller to provide wire-breaking detection capability.
Large Edge Switch 
Sensing section extends to the edges

Responds to loads from upward and downward diagonal directions

Usable in low-temperature environments down to -10°C

Choose from two aluminum channels (AC-395, AC-400) to suit the mounting method




– The AC-395 allows stud mounting




– The AC-400 allows for free on-site adjustment of the screw position (with the use of a bolt rail)

Large overstroke (sinking load) with a depth of 80 mm (87 mm for the AC-400)