EC2A Flameproof and Increased Safety Control Boxes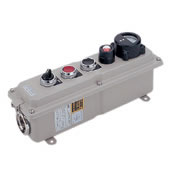 Ex de llC T6 
Applicable for any explosive gas in Zone 1 and 2 areas. Stainless steel plate enclosure with high corrosion resistance.
Features & Benefits 
Explosion protection: Ex de ⅡC T6

IEC60079 compliant

All models have a hinged lid for easy wiring.

Applicable in areas filled with all types of explosive gases such as hydrogen and acetylene gas.

Various types of control units and boxes can be mounted.

Degree of protection: IP65 (IEC60529)

China NEPSI approved
EC2B Flameproof and Increased Safety Control Boxes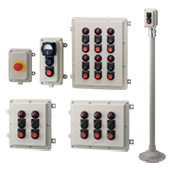 Complies with ATEX directive (European explosion-proof directive) 
Ideal for use in factories 
Features & Benefits
Explosion Protection: II2G Ex de ⅡC T6

ATEX directive compliant control boxes ideal for use in Europe and south-east Asia.

Corrosion resistant stainless steel enclosure.

Applicable in areas where explosive gases exist including hydrogen and acetylene.

Pushbuttons and selector switches with up to 3 contact blocks can be installed. Various circuits can be constructed.

Selector switches available with overlapping contacts suitable for various applications.

Control units can be purchased separately.

Exposed and finger-safe (IP20) screw terminals available for control units.