SE2L Safety Laser Scanner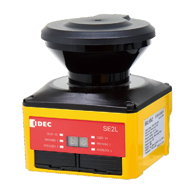 Type 3 with IP65 degree of protection 
A safety laser scanner to protect a wide area (270° and 5m). 
Features & Benefits
Area protection ensures safety of humans in a hazardous area, or those approaching the machine. 

One SE2L protects a wide area (270° and 5m) and can be used in a variety of applications such as large systems or long conveyor lines. 

The SE2L is a safety sensor that can detect approach. Stop area can be made smaller by detecting approach at the additional protection zone to start slowdown; conventional configuration of one protection zone & two warning zones are possible. 

A maximum of four SE2Ls can be interconnected using RS-485 for master/slave operation. 

Access prevention allows only objects to pass through, detects the access of humans. 

An SE2L can monitor two separate hazardous areas to stop machines when detecting the access of humans. No reflective sensor is necessary, thus eliminating the need of optical axis alignment. 

Reference monitoring function ensures safety by detecting the positional change of SE2L or reference boundary, such as a door's opening/closing status. 

Ensures safety at entrance of works. Override function enables restart from unintended stop.

Collision Avoidance through a maximum of 32 area patterns  that can be configured/switched according to the mobile application & utilizing distance measurement data to obtain data of the obstacles. 

Excellent usability with easy-to-use configuration and useful functions for simple and comfortable maintenance. 
SE1L Safety Laser Scanners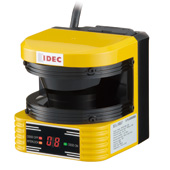 Smallest in its class.
Ideal for installation in small spaces.
Features & Benefits 
Smallest in its class. Ideal for installation in small spaces.

Each area consists of 1 protection zone and 2 warning zones. Up to 16 area patterns are available.

Operation status is easily visible with the 7-segment display.

Muting function enables flexible configuration of areas needing protection.

Override function enables safe restart of factory lines.

Misalignment can be detected using the reference monitor function.

IP65 (IEC 60529)