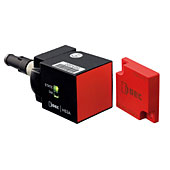 Category 4 and PLe compliant 
RFID non-contact interlock switch, Category 4 and PLe (EN/ISO 13849-1) compliant.
Features & Benefits 
The sensor head with built-in safety function (redundant solid state output with internal monitoring) eliminates the need for a designated safety module.

RFID ensures detection of slow-moving, open, sliding, and rattling doors.

Multicode and unicode sensor heads are available. Unicode sensor head (one sensor head corresponds to one actuator) prevents tampering with the use of an unassigned spare actuator.

Sensor head can be installed in 5 directions.

RoHS compliant.

Degree of protection IP67. Actuator IP67, IP69K (Note)

Note: IP69K is a degree of protection specified by Deutsches Institutfur Normung (DIN), DW 40050 Part 9 for hot and high-pressure water.
HS7A-DMC Non-contact Interlock Switches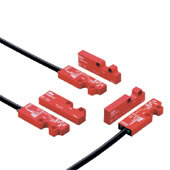 Compact size and easy positioning
Combination with proprietary relay modules achieves safety category 4 (EN ISO 13849-1).
Features & Benefits
Compact size (7 × 16 × 51mm)

Positioning for installation is easy.

Up to 36 sets can be connected (safety relay module: HR1S-DME)

Degree of protection: IP67
HS7A-DMP Non-contact Interlock Switches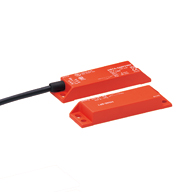 Three-contact type newly added.
Auxiliary contacts enable PLCs to monitor the door status.
Features & Benefits 
Operation signals from auxiliary contacts can be read directly by controllers such as PLCs, allowing for monitoring HS7A-DMP non-contact interlock switches.

Ideal for installation on guard doors where positioning is difficult.

Conformable up to safety category 4 (EN ISO 13849-1) (Combining with proprietary safety relay module achieves safety category 4.)

A maximum of 36 sets can be connected (safety relay module: HR1S-DME)

Degree of protection: IP67