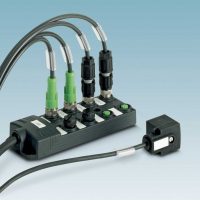 Reliable in the field
Connect your sensors and actuators quickly and safely in the field. We provide consistent product ranges for passive field cabling.
Features & Benefits 
Easy and safe: 100% electrically tested pluggable components

Flexible, thanks to the complete product range offering sizes from M5 to M12

Advanced Shielding Technology provides an absolutely safe and reliable shield connection, even under extreme environmental conditions

Save space with high-position connectors

Convenient: increased machine availability, thanks to quick and easy diagnostics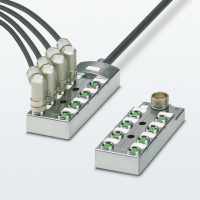 Shielded M12 distributor boxes
Reliable signal transmission. 
Features & Benefits 
Reliable signal transmission in environments subject to electromagnetic interference with reliable 360° shielding

Robust thanks to molded housing and high degree of protection

Flexible, distributed bundling of signals in one master cable

Save space: distributor box with double occupancy for two sensors in one slot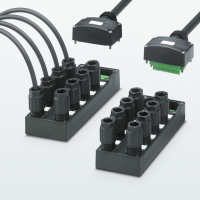 Distributor boxes with QUICKON connection
Easy connection without connectors.
Features & Benefits 
Time-saving assembly with insulation displacement connection

Easy signal line connection without connectors

Flexible master cable connection and easy box and cable replacement in the event of servicing with plug-in connector hood

Safety in the field with molded housing and high degrees of protection

Increased machine availability with simple diagnostics