Work Longer with QUINT DC UPS
DC UPS with IQ Technology
Clever IQ Technology monitors and optimizes the energy storage – anytime, from anywhere.
Your advantages
Full use of the energy content: processes and applications continue to be supplied for as long as possible 

Early warning before failure, as the UPS knows the remaining life expectancy of the energy storage 

Current status: the UPS determines the current performance of the energy storage

Automatic recognition of the battery capacities and technologies (VRLA, WTR, LiFePO4)

Optimized integration into the system by connecting the UPS to higher-level controllers

DC UPS devices with IQ Technology are a part of the COMPLETE line system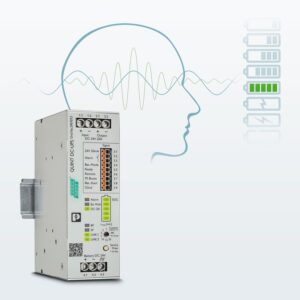 IQ Technology is the key to an intelligent power supply solution. The uninterruptible power supply monitors and optimizes the energy storage. Buffer times are optimally utilized. Avoid work interruptions with the intelligent UPS for non-stop power:
You know the charging state and remaining runtime of your energy storage.

You are warned about failures at an early stage and have time to prevent them.

You can maximize the service life of the energy storage.

You can transfer all relevant information to your computer and higher-level controllers.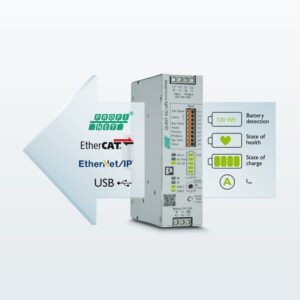 With the QUINT DC UPS for integration into existing industrial networks, you are ready for Industrie 4.0. The integrated interfaces enable you to monitor, configure, and shut down the system to put it in a safe state at any time and from anywhere.
PROFINET

EtherNet/IP

EtherCAT

USB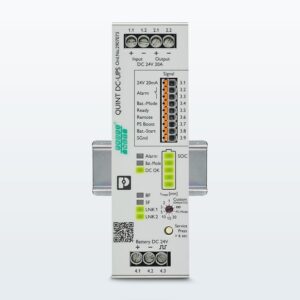 The UPS modules for 24 V DC with output currents ranging from 5 to 40 A allow you to create a custom solution combining a power supply, UPS module, and energy storage.
Optimum use of the buffer time and preventive monitoring of energy storage thanks to IQ Technology.

Location-independent monitoring and parameterization, thanks to integrated interfaces.

Substantial power reserve for grid and battery operation with SFB Technology, as well as dynamic and static boost.

Highest performance battery charger with load prioritization: superior system availability, thanks to rapid recharge once the load power supply is restored.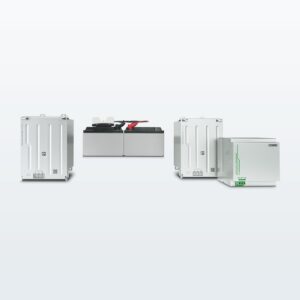 Select the right energy storage for your application for your QUINT DC UPS:
Lithium: 120 Wh, 924 Wh

VRLA-WTR: 13 Ah, 26 Ah

VRLA: 1.3 Ah; 3.4 Ah; 7.2 Ah; 12 Ah; 38 Ah