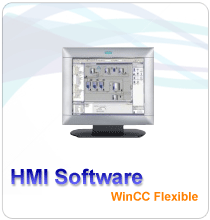 SIMATIC HMI (Human Machine Interface) offers you a broad range of operator panels and PCs for all HMI tasks. Two families of software are available for configuration.
SIMATIC WinCC flexible: Machine and process-level operator control and process monitoring
SIMATIC WinCC flexible is the innovative HMI software under Windows for all machine level applications in machine, series-machine and plant construction. The range of operator panels extends from Micro Panels, which are designed for applications with SIMATIC S7-200 controllers, to on-site solutions with SIMATIC Panel PCs or PCs.
WinCC flexible stands for maximum configuration efficiency: Library with preassembled objects, reusable faceplates, intelligent tools extending to automated text translation for multilingual projects.
WinCC flexible Runtime provides basic HMI functionality on PCs, including alarming and logging systems, at an affordable price and can be expanded with options. The runtime functionality available on the SIMATIC devices depends on the respective class of device
HMI Software WinCC Flexible
Flexible in any application
WinCC flexible is ideal for use as a Human Machine Interface (HMI) in any machine or process-level application in plant, machine and series-machine construction. WinCC flexible is designed for all sectors of industry and offers engineering software for all SIMATIC HMI operator panels, from the smallest Micro Panel to the Multi Panel, as well as runtime visualization software for PC-based single-user systems running under Windows Vista/XP. The projects can be transferred to different HMI platforms when they can be executed without the need for conversion.
Thanks to multilingual software and projects, WinCC flexible can be used worldwide.
SIMATIC WinCC flexible Engineering Software
WinCC flexible includes innovative engineering tools for the end-to-end configuration of all SIMATIC HMI devices and is available in a number of versions differentiated by price and performance. They are based on each other and are optimally tailored to the individual classes of operator panel. The larger software package always includes the configuration options of the smaller packages.