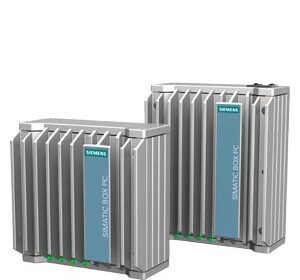 SIMATIC IPC127E
Ultra-compact IoT gateway for data collection, pre-processing and forwarding of data. 
Features & Benefits 
High performance data processing with extremely compact design: current CPU technology of the Intel-Apollo-Lake series, 2-core: Intel E3930 and 4-core: Intel E3940; in each case without / with TPM option, power consumption <= 15 W, i.e. low heat dissipation in the enclosure/control cabinet & wake-on-LAN for remote-controlled switching between standby and active state. 

High degree of industrial functionality for implementing an embedded solution: solid-state drive as rugged mass storage: 32 / 64 / 128 GB, 2x / 3x Gbit Ethernet (teaming-capable); PROFINET with RT functionality (via Standard Ethernet), 2x / 4x USB 3.0 ports, 1x DisplayPort as graphics connection, Windows 10 Enterprise LTSB 2016 incl. the embedded features such as Unified Write Filter (UWF) & Windows 10 Enterprise LTSC 2019 incl. the embedded features such as Unified Write Filter (UWF). 

High system availability in order to reduce the risk of potential failures and maintenance costs: maintenance-free since there are no rotating parts (fans, HDD) & self-diagnostics by means of local diagnostics software SIMATIC IPC DiagBase. 

Optimum flexibility for adaptation to the machine: flexible mounting (DIN rail and wall mounting), in all vertical installation positions, minimal space requirements (installation volume approx. 0.3 liters; integrated 24 V DC industrial power supply), up to 55°C ambient temperature; dust protection due to closed enclosure & LEDs for efficient self-diagnostics; optimized for headless operation. 

High investment security in order to reduce engineering costs: long term availability with service & support period of 8-10 years after market launch.