Multi-Loop Controller with Multifunction Display Model C7G/C7S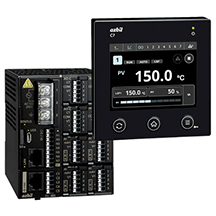 Digital Indicating Controller
A diversity of built-in functions to meet a variety of needs! 
Features & Benefits 
Excellent usability and readability with 3.5-inch full dot matrix LCD offers crystal-clear display of values and graphs during control operation.

Touch panel provides user-friendly operability. If lost, just press the home button.

Withstands a variety of environments with IP67 protection rating, resistance to dust and water drops allows use in a range of environments.

Selectable home screen as one controller handles up to 4 loops, allowing users to select the required number of loops

Clarity at a glance-set for full name display of C7G/C7S alarms and settings, Parameter settings and gauge alarms can be displayed by name rather than by code number, reducing the need to refer to the manual during setup and alarm handling. Both English and Japanese are available, and can be seamlessly switched during operation.

Easy identification of the location and cause of generated alarms.

Control status can be conveniently checked on a graph while making trial-run adjustments.

Value is maximized as a high degree of flexibility is ensured for equipment-internal instrumentation networks and controller-controller instrumentation networks.

The PLC link function utilizes Ethernet to exchange data with a Mitsubishi Electric PLC (MC Protocol / SLMP) or communication converter(gateway)-less/programming-less controller.

Effective data recording with necessary data being recorded at fixed intervals, allowing controllers to achieve data processing and management at FA control layer.
Network Instrumentation Modules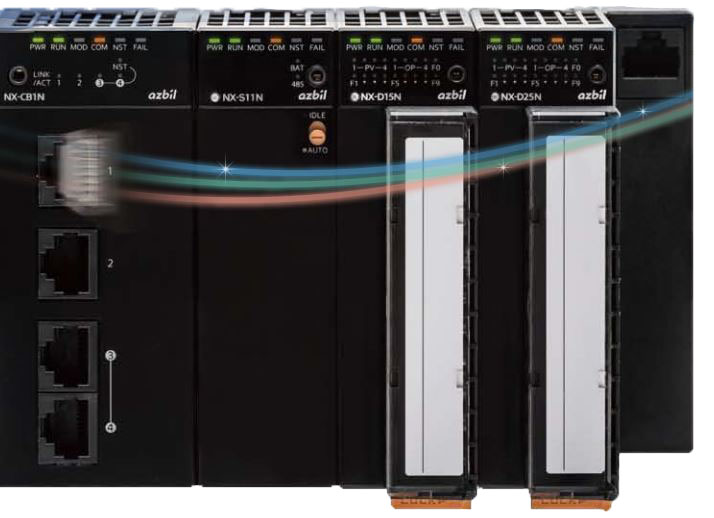 Multi-channel Controllers
Advanced control technology using networks to meet customers' requirements. 
Features & Benefits 
Standard Ethernet Hardware with each module communicating through Ethernet. High-speed communication at up to 100Mbps. 

Full-fledged distributed layout with no difference in function between distributed and contiguous layouts. 

Both ring or non-ring communication is possible on an Ethernet network. 

Control of temperature difference between zones as mutual interference among multiple control loops is prevented and a constant difference in temperature is maintained between the controlled variables. 

Overshoot suppression and disturbance response characteristics can be freely adjusted. 

Shorter adjustment time for equipment like large heat treating furnaces. 

Energy controlled through setting appropriate PID, minimizing losses. 

Peak power suppression control by means of time-sharing output of 2 loops within the time proportional output cycle time. 

Rising temperature coverage for synchronized start that reduces energy wasted while on standby. 
Digital Indicating Controllers SDC Series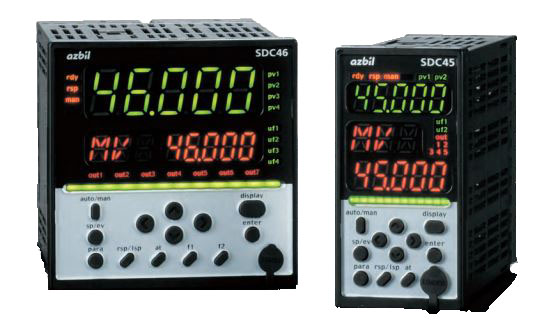 Digital Indicating Controllers
PID controllers with full multi-range input, digital indication, and the new Ra-PID (RationaLOOP PID) and Just-FITTER algorithms.
Features & Benefits 
Space-saving design with a 65 mm depth (only 60 mm in the case of SDC15), and a front panel just 5 mm thick (SDC15: 2 mm)

Completely configurable full multi-range input selectable from among thermocouple, RTD, current, and voltage (SDC15: group multi-input)

Either on-off control or PID control using Ra-PID (RationaLOOP PID) + Just-FiTTER can be selected as the control method

Heating and cooling control can be done by changing the parameters of 2 control outputs, or of 5 outputs including event outputs

Communication functions (RS-485/Modbus-RTU, CPL) are available as an option.

Control output can be selected from among relay contact, voltage pulse, current, and continuous voltage, and it is possible (depending on the model) to use these outputs in combination with a second control output.

Selection of the desired combination of 3 or 2 event outputs (independent contacts), 2 CT inputs, 4 DI outputs (SDC15: 2 outputs), RSP input, and RS-485

Step operation is supported on the SDC35 and SDC36. These models can be used as simple program controllers

Distributor power supply function is available as an option (SDC45/46 only). No converter is required, so the number of components can be reduced.

A 2- or 3-input simple calculation function is provided (SDC45V and SDC46V only). Without the need for a converter or computing units, the number of system components can be reduced.