PUB, Singapore's national water agency that managing the country's water supply, water catchment and used water in an integrated way.
The Application
Project location: Jurong Island - a man made island located at southwest of Singapore where it's main activity is related to petrochemical industry.
To design a PLC system to control an AC Induction Brake Motor to collect the sewage from the industrial waste water before transporting to sewage treatment plant.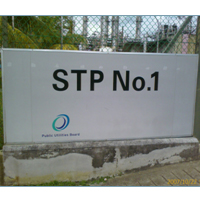 D'Mark is privileged to be awarded the project to design a controller system for sewage collection.
The Solution
D'Mark Technologies proposed our solutions from Phoenix Contact networkable components from 'AUTOMATION', one of six business product division.
Phoenix Contact's compact controller ILC 150 ETH is the heart of the whole control system. ILC 150 ETH was endorsed in this project due to its hardware compactness and product reliability and it's advanced features in industrial IT capabilities such as Ethernet connectivity, Web Server (HTTP), FTP for remote data uploading and future I/O expansion easily made with the wide range of Phoenix Contact's InLine I/O module.
Key products applied in this project are
Phoenix Contact ILC 150 ETH controller
Phoenix Contact surge arrestor for 1-phase power supply network
Phoenix Contact InLine I/O modules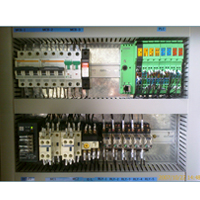 Control Panel with Phoenix Contact products - PLC controller ILC 150 ETH and Type 3 surge arrestor