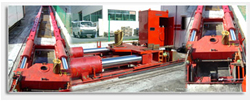 A hydraulic specialist corporation, based in Singapore, serving multiple industries in the marine, water and environmental.
D'Mark is privileged to be awarded the project to work together with the hydraulic specialist corporation to develop the Wire Robe Tester usable in Marine Offshore industry.
The Application
To design a control system for the proportional valve to enable testing for steel cable load for steel ropes, anchors, chains and shackles.

The control is designed to test the steel wire cable with capacity tonnages ranging from 150 to 1500 tonnes and allows user changeable for different wire rope testing requirements.

Accuracy of PID loop control is imperative to maintain the steel wire cable set tonnage by user.

A HMI is required to perform data recording during testing and generate test report.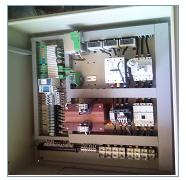 Control Panel with Phoenix Contact products - PLC controller, I/O, RS422 to fiber optic converter, QUINT power supply
The Solution
We, D'Mark Technologies, proposed our solutions from Phoenix Contact networkable components from 'AUTOMATION', one of six business product division.
Phoenix Contact's compact controller ILC 150 ETH is the heart of the whole control system. ILC 150 ETH was endorsed in this project due to its hardware compactness and product reliability and stability in PID close loop application for hydraulic proportional valve.
Key products applied in this project are
Phoenix Contact TP10 (10.4" HMI)
Phoenix Contact Visualisation software for remote PC terminal
Phoenix Contact OPC Server
Phoenix Contact InLine I/O modules and SFN unmanaged robust Ethernet switch.
Importantly, the whole PLC controller system in the control panel had successfully obtained the DNV certification to be approved to be used as marine wire rope testing equipment.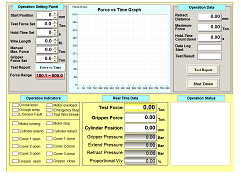 Phoenix Contact HMI VISU+ Screen Layout