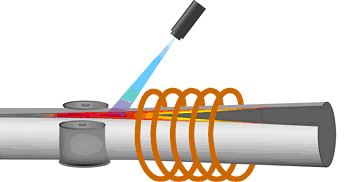 Principle of Induction Pipe Welding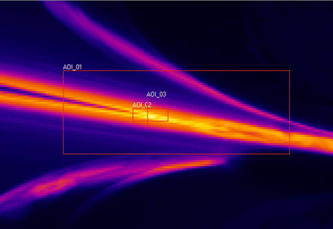 Seam monitoring using specific areas of interest in the DTPi software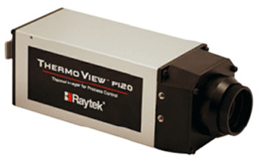 ThermoView Pi20 thermal imager
How do you control the temperature of a welded pipe seam during the induction welding process?
Situation Analysis
Induction welding is a common method of steel tube production and temperature control is essential to maintain quality. The production of steel tubing uses sheet stock that is formed into a tubular shape by passing through a series of roller stands and an induction welder that heats the seam to a high enough temperature to enable a strong weld to be achieved as the metal is being forced together
Measurement temperatures: 1400°C (2552°F)
Ambient temperature: up to 60°C (140°F)
Process speed: 0.3 to 3 m/s (1 to 10 ft/s)
Measurement distance: typically 0.75 m (30 in.)
Pipe diameters: up to 600 mm (25 in.)
Solution and Improvements
The Raytek ThermoViewTM Pi20 thermal camera and the DTPi software is the suitable choice for this application. The DTPi software provides positioning of the seam relative to the weld area and can be used to provide outputs to control the weld seam varying from the up-right position. Variations from this position can be detected and used to make corrections on the induction heating machine to correct the problem. The monitoring of the position and the width of the weld is a key for the final seam quality. By monitoring peak temperatures in the weld area, the Pi20 camera and DTPi software can detect unwanted weld position variations due to pipe feed velocity variations, pipe rotation variations, and induction weld temperature variations.
Raytek Product
ThermoView Pi20 thermal imager
200 to 2000°C (392 to 3632°F)
(RAYPi20HT...)
Benefits
Improved product quality
Reliable weld position control
Increased throughput
Ability to maintain weld integrity in process resulting in higher grade pipe that is sold at higher prices
Accessories
Digital/analog output module (XXXPi206024)
Relay output module (XXXPi206060)
DTPi Software (XXXPi20DTPi)

*Note: a soft metal protective housing may be required in the field to protect against electromagnetic interference