SINAMICS S210 servo drive system
SINAMICS S210 servo drive system – Description
SINAMICS S210 - The easy, high-Performance and safe servo drive System. With its converter designed specifically for use with the newly developed SIMOTICS S-1FK2 motors, Siemens is offering a new servo drive system in five power classes ranging from 50 to 750 watts. The converters come with integrated safety functions and enable rapid engineering. They are connected to the higher-level controller over PROFINET and allow simple commissioning using a web server and one-button tuning. Working in combination with the SIMOTICS servo motors, they allow for highly dynamic movement of minimal loads as well as ultra-precise movement of medium and high loads.
SINAMICS S210 Servo Drive System and SIMOTICS S-1FK2 with OCC
The servo drive system for high dynamic Motion Control appilcations, e.g. in packaging or handling. Top performant, easy to use, integrated safety functions, simple configuration and commissioning.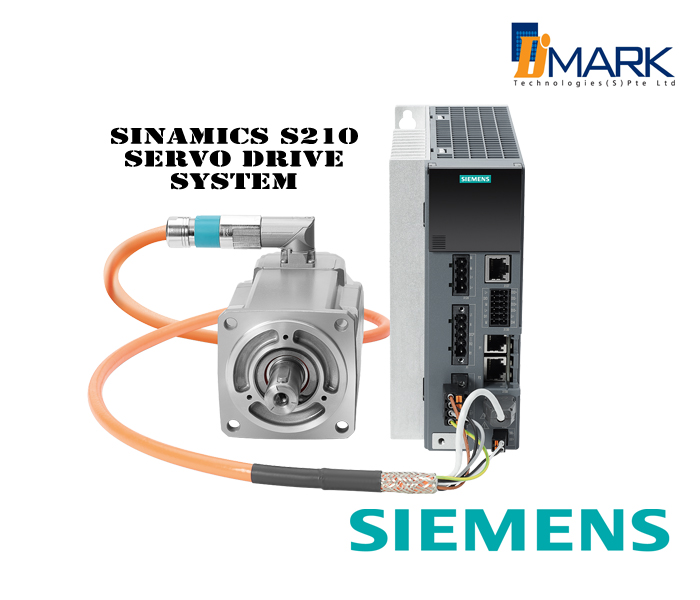 SINAMICS S210 servo drive system – a brief Summary of its Strengths
New drive system comprising SINAMICS S210 and SIMOTICS S-1FK2 motors


High dynamic performance and precision plus simple One Cable Connection (OCC)


Integrated safety functions, rapid engineering and commissioning


Servo drive system in five power classes from 50 to 750 watts



SINAMICS S210 servo drive system – Technical Data

Power range



SINAMICS S210

:
1AC 230 V, 0.1 kW - 0.75 kW
3AC 400 V, 0.4 kW - 7 kW*


SIMOTICS S-1FK2

:
0.05 kW - 0.75 kW
0.4 kW - 7 kW*


Torque


1AC 230 V, 0.16 Nm - 2.4 Nm
3AC 400 V, 1.3 Nm - 50 Nm*


Communication


PROFINET IRT, PROFIsafe, PROFIenergy


Safety Functions


STO, SS1, SBC, SS2

1)

, SOS

1)

, SLS

1)

, SSM

1)

, SDI

1)

, SLA

1)

, SBT

1)




Commissioning / Engineering


Web server / Startdrive*


EMC Filter


Integrated (1AC 230 V: class C2 / 3AC 400 V: class C3*)


Standards


CE, EAC, RCM, KC, cULus


Motor Connection


One cable connection with SPEED-CONNECT quick lock fastener and compact, rotatable plug
Allowed cable length: up to 50 m


Typical Controller


SIMATIC S7-1500 / SIMATIC S7-1500 T-CPU / SIMOTION


Motor design


• with low rotor inertia (High dynamic) in shaft height 20 to 63 mm
• with medium rotor inertia (compact) in shaft height 30 to 100 mm


Motor options


brake, multi turn or single turn encoder, feather key, rotary shaft seal